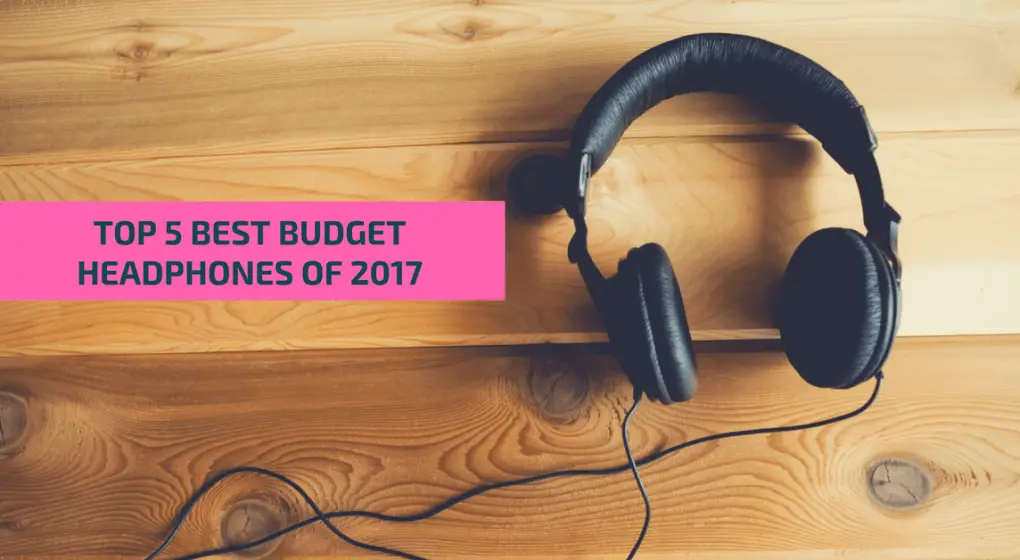 Finding great headphones within a budget is not an easy task if you aren't an experienced headphone user, but you don't have to worry because we created a list of the BEST wireless headphones under a budget of 2016!
Headphones are very versatile— you can use them on smartphones, tablets, mp3 players, and computers. You can use them to listen to your favourite tunes and music, and even take calls.
All the headphones reviewed in this article are Bluetooth-capable. Thus, you won't have to deal with any cords when you use any of these headphones.
But with the multiple functions of headphones, you might get confused on which model to buy. This article will help you find the right pair of headphones that suit your needs and budget.
​Top 5 Best Budget Headphones Of 2017
Buying Guide
Bluetooth headphones can connect with most smartphones, tablets, and laptops with built-in Bluetooth functionality.
The following are some of the more important features to consider in shopping for a Bluetooth headphone:
Things to consider
Battery life— look for a Bluetooth capable headphone that can run for at least 10 hours.
Built-in microphone--- this is something critical if you want to answer phone calls while in the middle of listening to your favourite tunes
Size/Design--- if you are always traveling, you would definitely want a headphone that is lightweight and compact. This may not be important, though, if you intend to use the headphone at home.
What Are The Best Budget Headphones?
Summary: The Sony MDRXB950BT/B is a pair of Bluetooth headphones that would let you listen to your favorite tunes, and take calls wherever you may be.
It also features a special Bass Boost button. With a simple press of the said button, you can hear a club-like enhanced low frequency.
You can easily take calls with these headphones. You can press the phone button on the earpiece to accept incoming calls. Press the said button again to terminate the call.
This Sony product runs on a rechargeable, built-in battery. It can run for up to 20 hours.
Many Amazon.com customers are very happy with this pair of headphones. They say that it is very reasonably priced, considering that it comes from a reputable brand like Sony.
One reviewer commented that these headphones don't need noise cancelling. It's that good in eliminating external noise. He also mentions that the battery life of these headphones can last a day.
However, the main disadvantage of these headphones is that these aren't the lightest and most compact model around.
Battery life is long
Bass boost button
Reasonably priced
A bit heavy
Ear pads can get quite warm after some time
Not ideal for travel
Summary: Sennheiser is a brand that's not exactly known for being cheap, but this is a headphone that is probably the only exception.
This is one of the few, reasonably priced models from Sennheiser. It delivers superior sound quality even with the audio source up to 330 feet away.
It comes with rechargeable batteries. The batteries can last up to 18 hours.
In terms of audio quality, it features bass boost and surround sound listening modes. You would be able to enjoy rich and clear audio when you listen to these headphones.
With its closed back and around ear design, this pair of headphones can minimize ambient noise. The design also makes the headphones very comfortable to wear even for extended periods.
The consensus among reviewers on Amazon.com is that this is a headphone that gives bang for the buck. They say that it comes from a very good brand but is quite affordable.
One reviewer says he has been using this headphone for more than a year now, and it hasn't shown any signs of slowing down.
Reasonably priced
Good sound quality
Comfortable to wear
Buttons not the easiest to control
Quite clunky
Foam isn't the softest
Summary: Beats is one of the more popular brands of headphones around the world. These over the ears headphones are getting rave reviews for their superior sound, sturdy and lightweight design.
The MixR professional DJ headphones were designed by world-renowned DJ David Guetta. It's not a just a marketing gimmick, if we are to base it on reviews on Amazon.com.
According to reviewers, this headphone delivers deep bass and high volumes. And unlike other headphones that deliver superior sound, this Beats headphone is comfortable to wear even for an extended period.
It is also lightweight. You can fold it so it would fit inside your bag or luggage.
One reviewer said that it doesn't do a good job at cancelling or eliminating noise. But he feels that it's Ok as he could still be aware of his surroundings while he works or listens to music.
Another reviewer is raving about the hot pink color of the headphones. Some reviewers, though, think that the pink color of the headphones make it appropriate for women.
Lightweight and compact
Deep bass, clear sound
Sturdy
Pink color
Not good at eliminating external noise
A bit pricey
Summary: These are great sounding headphones that are well built, and reasonably priced as well. It features an enhanced bass boost/response, with active noise cancellation. With those features, you can be able to hear your favourite tunes and watch your favourite movies without getting distracted by ambient noise.
These Bluetooth headphones can be used for an extended period. Its cushioned foam ear pads can cup the entire ear for up to 16 hours.
Its foldable design also makes it a great choice for long road trips, and even when working out.
You can also adjust the volume through its built-in volume control.
Reviewers on Amazon.com are very satisfied with this pair of headphones. They say that these headphones are very comfortable to wear. The consensus is that these headphones may look big, but they aren't that heavy when worn.
The sound isolation of this headphone has also been getting rave reviews. Customers on Amazon.com say that these headphones do a great job of eliminating outside noise.
It's also competitively priced for a pair of Bluetooth headphones.
Price
Comfortable to wear
Sound isolation
Weak bass
Buttons not easy to control/use
A bit heavy
Summary: One of the main selling points of this Bluetooth headphone is its long battery life. It can last up to 25 hours, which is very remarkable for a Bluetooth headphone.
It is easy to connect with a smartphone, tablet, or Bluetooth-capable mp3 player.
It is also very well-made, coming from beautifully crafted Al-Ti alloy. Customers on Amazon.com cite that it looks sturdy and could last for a long time.
It features an advanced PPS8 technology that can make any music or sound clear and balanced. Customers can simply turn on the 3D sound of this headphone with a simple push of a button.
There are also lots of positive reviews from customers on Amazon.com. They describe the sound to be very balanced, from the highs to the lows. The bass levels are also very good.
A common complaint, though, is that the headphone tends to lose its signal every now and then.
Well made
Looks good
Sound is clear and balanced
Signal loses every now and then
A little not comfortable to wear
As mentioned earlier, the models discussed in this article are Bluetooth-capable. Wireless headphones like said models are ideal for outdoor use since you don't have to connect to a music player using cables or wires.
Wireless headphones like the models reviewed in this article let users have more freedom to move around, as there are no cables to get entangled with.
Conclusion
Choosing the best headphone in the list is tough but the Bluedio U (UFO) PPS 8 Drivers Over-ear Bluetooth Wireless Headphone with Mic may just top our list.
It clearly has the longest battery life at 25 hours. It also has a great design, making it ideal for both home and outdoor use. It is well made, too.
With its advanced PPS8 technology, this headphone can make any music sound clear and balanced.
It may lose signal every now and then, but that's probably the only chink in its armor.