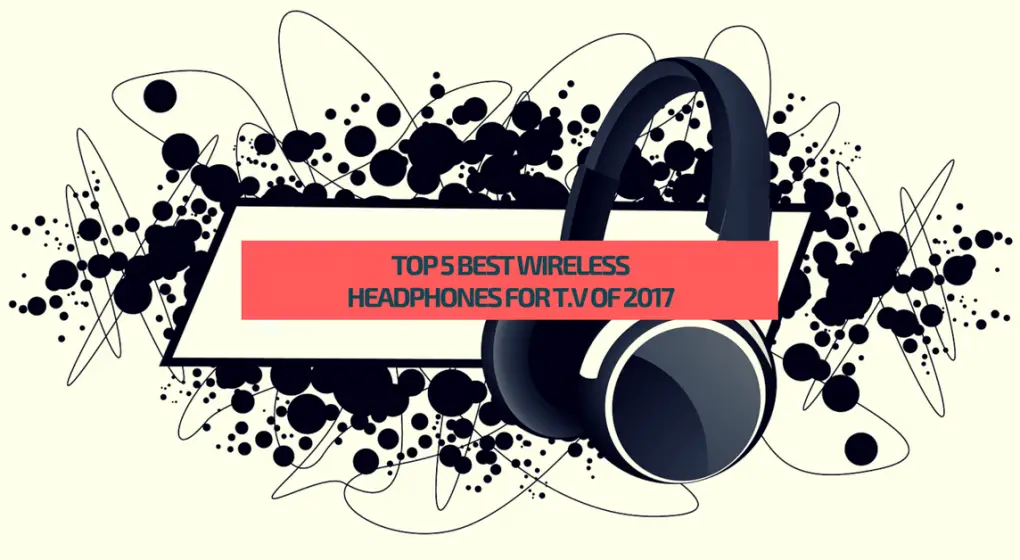 Wireless headphones give you the freedom to move around even while you listen to your favourite tracks. With this type of headphone, you can go to the kitchen, lie around your bed, and even run on the treadmill while listening to any type of music.
There are lots of wireless headphones on the market, which can really confuse a buyer like you. Fortunately, we're making shopping easier for you by picking the best wireless headphones today.
So what are the top TV wireless headphones out there?
​Top 5 Wireless Headphones For T.V In 2017
Buying Guide
In choosing a wireless headphones for tv, pay attention to the following factors:
Battery life. Wireless headphones may be powered by standard disposable batteries or a built-in, rechargeable battery. You should look for headphones that can at least last up to 10 hours, so you can use them the entire day without recharging.
Form factor/Size. Wireless headphones should be compact and lightweight enough for travel. Even if you're not always on the go, you would still want compact and lightweight headphones as these are likely to be comfy to wear as well.
Sound quality. Read users' reviews to get an idea on how a wireless headphone performs in terms of audio quality.
Controls. Most wireless headphones have built-in buttons located on either side. You would want headphones with buttons that are easy for your fingers to locate or press.
Range. Obviously, the longer the range, the better the headphone is.
What Are The Best Wireless Headphones For T.V ?
Summary: This is a pair of headphones that you can use at home or while in travel. It is lightweight, easy to control, and delivers excellent sound.
It comes with a wireless transmitter that also serves as a charging dock. This headphone is powered by two AAA NiMH rechargeable batteries.
Its can last up to 20 hours, although battery life may depend on use and installation environment.
These headphones can connect to media devices that are up to 300 feet away. In terms of sound quality, these headphones can deliver. It Open-Aire design allows it to provide detailed and warm sound with good bass response.
It is easy to control, with the buttons for volume control, on/off, and tuning located on the headphone.
Many reviewers on Amazon.com agree that in terms of sound quality, this Sennheiser headphone is peerless. It can deliver strong bass, crisp highs, and prominent mids.
A common complaint, though, is that the earpads have a tendency to get warm after some time.
Easy to control buttons
Long battery life
Good sound quality
Not the most comfortable to wear
A bit pricey
No on/off indicator
Summary: If you are looking for a reasonably priced, lightweight, and comfortable headset, then the Photive HF1 should be in your short list.
This is one of the smallest and lightest headsets you can find on the market. It weighs only 5oz, so you will be able to pack it in your bag. You can also wear these headsets for hours because of its leather padded headband.
You should have no problems adjusting the volume, skipping tracks, and answering calls with this headset. It has one touch controls that make it very user-friendly.
It also delivers great sound, with prominent highs and lows.
And the Photive HF1 is very reasonably priced especially when you compare it with other headsets from other more popular brands.
Many reviewers on Amazon.com are very satisfied with this headset. They say that it looks very well-built. They also love that it is very lightweight and comfy to wear.
However, it doesn't have the longest battery life at just 12 hours.
Very lightweight
Comfortable to wear
Reasonable price
Poor battery life
It has a tendency to skip audio
Poor range of 33 feet
Summary: These are over-the-ear headphones that have been getting a lot of positive review on Amazon.com. Reviewers say it gives bang for the buck. It is well-made, delivers superior audio, and compact and comfortable to wear for long road trips.
This wireless headphone has a range of 150 feet. With that range, you can be listening to your favourite tunes in your room even if your media player is in another room.
Moreover, you will be happy to learn that most Amazon.com reviewers report that these headphones work flawlessly. There are no static issues even when you use this pair of headphones near other electronic devices.
Weighing just 5 pounds, these are lightweight headphones that you can bring to your next road trip. The batteries can last for a day.
As for the sound quality, you can be assured to hear clear and crispy highs and lows.
However, not all Amazon.com reviewers find this headphone easy to use. They particularly cite that its volume adjuster is difficult to locate.
Good sound quality
Long battery life
Superior range
Lightweight design
Hard to locate buttons
Not really comfortable to wear for extended periods
Summary: Sennheiser is known for making quality audio products, and it shows that reputation with the RS 165 wireless headphones.
With a range of 98 feet, these are headphones that you can use for listening to your favorite tunes even if your media source is in the other room. You can also use these for late night TV in the bedroom, or when you are walking on the treadmill.
These headphones can last up to 18 hours with their batteries fully charged. There are buttons for volume and bass boost located on the headphones for easy control.
This pair of headphones also has a transmitter that serves as a docking station and charging base.
These headphones have very good ratings on Amazon.com. Many reviewers say you can't get a better sounding headphone for its price than this Sennheiser product.
One reviewer mentions how the Sennheiser RS 165 is well built. He says he has been using them for more than a year. He hasn't noticed any problems at all.
But there are also some complaints about the comfort or lack thereof in using these headphones.
Long battery life
Well built
Superior sound
Not the most comfortable to wear
Lack of instructions
Lack of bass
Summary: iDeaUSA may not ring a bell like the other brands in this list but it does offer some good quality headphones like this product.
These Bluetooth headphones are lightweight, comfortable to wear, and super easy to use.
It makes use of Bluetooth 4.0 technology, enabling it to deliver stereo sound quality without wires.
These headphones are also lightweight at nearly 6oz so you can bring them wherever you may go. You can put them in your backpack or laptop bag with their compact design.
These are very comfortable headphones to wear, thanks to their soft protein leather earpads.
You can also use these headphones in taking and making calls as it comes with a built in microphone. With its passive noise isolation, you can hear your favourite music or the person you are talking to even in noisy environments.
However, the battery life of these headphones isn't that impressive. It can only last for 14 hours. The buttons may also be easy to locate but most reviewers on Amazon.com complain these make an annoying click sound.
Lightweight
Comfortable to use
Reasonable price
Battery life
Buttons make a noisy click sound
Conclusion
Given all these factors, we are confident to say that the Sony MDRRF985RK RF Wireless Stereo Headphones are the best in our list.
These over-the-ear headphones are well-made, compact, and comfy to wear. It also has the best range of 150 feet.
It also helps its case that it comes from a very reputable brand. The batteries can also last for 10 to 12 hours, thus you can use these headphones for an entire day.
The Sony headphones may have its share of drawbacks but those are rather forgivable. With its affordable price tag and superior features, it is easy to understand why the Sony MDRRF985RK RF Wireless Stereo Headphones are that highly recommended.