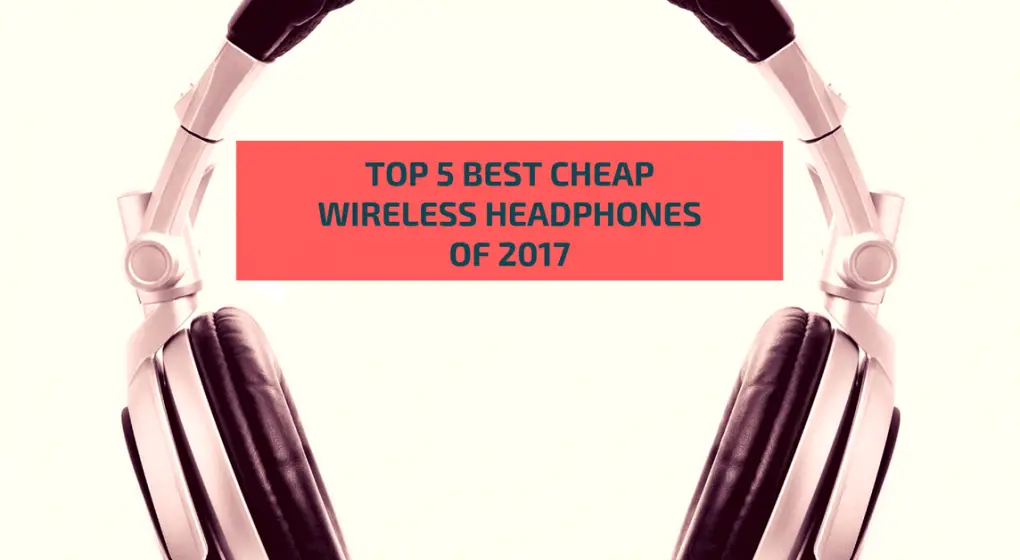 Headphones give us the option to make our music personal, though with the long cords that are prone to tangling and breaking, they are not always practical for every use we need them for.
While going wireless might seem like costly affair, the great news is that there are actually a wide range of models available that retail at a very affordable price, with an impressive list of features to boot, depending on your user requirements.
Let's take a look at some of the best options:
Buying Guide
How to choose cheap wireless headphones?
When it comes to choosing wireless headphones, fundamentally, it all depends on what purpose you most need them for. There are different designs featuring a headband, no headband, one ear or two ears, depending on what suits your usage patterns.
For example, some wireless headphones are designed with sports use in mind, so they have a frame built into them. This is useful for keeping the headphones secure to your head especially as you pound the pavement. Though, if you want wireless headphones primarily for driving, something such as a single ear device with Bluetooth capabilities might be more appropriate.
Also, when it comes down to the sound quality, is this more important to you over functionality? If you are not intending to listen to music rather just intercept calls, then a single-ear or mono device would work better, especially if you are on a budget; otherwise you will end up paying for features you are not going to use. So, it's best to choose what you will most need your wireless headphones for, and go down a specialized route for that purpose.
What are the advantages of cheap wireless headphones?
There are many advantages to wireless headphones, the main one being that not being tied to a cord is much less of a hassle. For example, if you are out running, you don't have to worry about the cord getting tangled up or being yanked out of your ears. Also, without a cord, you are free to move anywhere in the house without the restriction of being tied to your device, so great if you want to listen to your music while going between several different rooms.
These days, wireless headphones often have technological features such as Bluetooth, rechargeable batteries and an inbuilt microphone, meaning you won't be missing out just because you aren't tied to your device. With Bluetooth, you can also intercept calls as your listening device also doubles up as your phone while on the go; as well as giving a sleek experience, they can also double up as your office while on the move.
Things to look for
Seeing as you are leaving the wires behind, you want your wireless headphones to be sleek in design and comfortable to use, so the frame should be lightweight and the ear sockets should not only provide great sound, but also e a comfortable fit. Depending on if you have sports activities in mind, the fit should also be quite snug so that it won't fall off during exercise.
Tech wise, Bluetooth capability is one of the main features which will give you the most out of your device. Though it's not essential, having it will mean you can use your headphones for more than just listening to music. If you are very busy with the calls you receive, then not being constantly interrupted by having to find your phone to answer it could make things a lot less stressful, especially if you are out running.
You should also look out for headphones with a good battery life, and also batteries that are easy to charge. The last thing you want when you are using wireless for convenience is to have the device run out of power at a critical time, such as in the middle of a call.
The best way to use cheap wireless headphones
Depending on the activity, there are many ways to use your wireless headphones that will not only enhance your listening experience but will make life easier too.
If using Bluetooth, it will depend on the range of the device as to how far away you can move from your phone so that you can still intercept calls; however, most headphones have a fairly decent range so that you can continue your daily activities without the device cutting out.
During your commute, wireless headphones can be beneficial especially on public transport as this will mean you can secure your device away safely without it being exposed to theft, like they would be if wired to your phone or other devices, which would require them out in front of you or in your pocket.
Wireless headphones also allow for hands-free use except when changing up a song or taking a call, so overall, making things easier and the experience sleeker. You can tailor the experience to make things work for you, depending on what your daily activities consist of.
What Are The Best Cheap Wireless Headphones Models?
Conclusion
While the headphones most suited to you will depend on what type of activities you most need them for, the top pick from the above would be the [email protected] New Sport Wireless Bluetooth Stereo Earbuds Headphones with In-Line Microphone. Quite simply, these give users more options, not just with device pairing capabilities, but also the ear tips which, on some models, can be uncomfortable and non-interchangeable. Whether you prefer the buds on their own or ear hooks for stabilization, you have options, which means you are not limited to gentle walking or running as is the case with some wireless headphones.
As well as the run time being quite generous, compared to other models, sound wise, they definitely pack a punch. While some wireless headphones can leave you with poor performance as a tradeoff for functionality, the [email protected]'s are noise-isolating earphones and excellent audio quality overall. Therefore, you are not missing out by ditching the wires, and can still experience a decent sound quality while going hands-free.
These headphones would fit quite easily into your pocket, and also come with a carry pouch to protect them in your bag. Overall, all aspects of the design and user friendliness have been best addressed with this model, compared to the others reviewed.