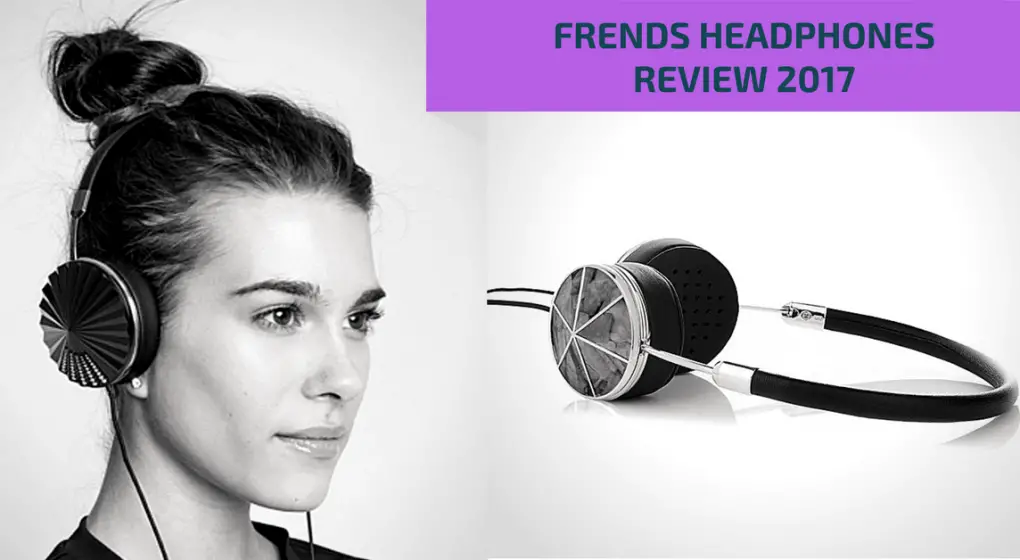 When you think of headphones, you don't normally picture something flashy and stylish. While there are a few brands who offer bright colors and interesting patterns, FRENDS takes it to the next level with their ultra-hip lineup of headphones. The FRENDS company launched their first products in 2011 with the hope of bringing "more music and beauty to everyday life by creating beautiful, fashionable headphones". With two distinct lines of over the ear headphones, the company offers a truly unique product that is not only chic and comfortable but also practical with its extraordinary sound quality. The designs offered by FRENDS continues to evolve, with new designs being released on a regular basis.
Features
FRENDS primarily offers over the ear headphones in a wide array of styles and colors. They have two main lines, the Taylor Headphones and the Layla Headphones. These jewelry and fashion inspired headphones are sure to make a statement no matter which ones you choose. Both the FRENDS Taylor Headphones and the Layla Headphones have interchangeable caps that pop out and come in a variety of designs that can be changed based on your mood or outfit.

The Taylor headphones are the larger of the two sets. They offer high-quality sound combined with noise canceling technology. Guaranteed to fit almost any sized head, they are fully adjustable. These headphones are made of genuine leather in an assortment of colors. With their memory foam ear pads, you will be able to listen to your music in comfort for hours on end. Each headset comes with a 3-button microphone that has volume adjustments, music selection options, and phone control. Their innovative fabric coated cord reduces tangles.

These headphones can easily be folded to fit into your purse when you are on the go. Simply lay them flat and put one ear cushion on top of the other, and fold in towards the bend of the headband.

When you want to change the look of your Taylor Headphones, simply pop off the caps and snap on a new set. With over five different sets to choose from, and new designs being added, you are bound to find a look or two that work for you. Prices for caps range from $20 to approximately $50.

Taylor Headphones can be purchased individually with the difference being the caps. Depending on the caps you choose, prices range from $100 to close to $200. There is also a Taylor bundle available for $229 that includes the Taylor Oil Slick headphones, a set of gold caps, the Vintage Ella B earbuds, and two carrying cases. The earbuds are only available in the package and cannot be purchased separately at this time.

The smaller Layla Headphones come in their own assortment of beautiful, jewelry inspired designs with interchangeable caps. Because of their size, the Layla's are slightly more delicate than the Taylor headphones, but they offer the same high-quality sound combined with noise canceling technology. They are made with the same quality materials from the genuine leather on the headband to the memory foam in the ear cups. On the fabric coated cord, similar technology is used in the 3-button microphone that has volume adjustments, music selection options, and phone control. Like the Taylors, the Laylas can be folded and stashed in your purse for travel. Fold in the ear cushions towards the bend of the headband.

Layla Headphones can be purchased individually with the difference being the caps and a black or white headband. Depending on the caps you choose, prices range from $100 to close to $200. There are also two different Layla bundles available for $159-$169. The bundle includes a set of headphones, extra interchangeable caps, and two carrying cases.

For those who want something a little more extravagant, FRENDS also offers the high-end line of headphones branded under the Dolce & Gabbana name. These are for the true fashionista and are made with gold-plated filigree, Swarovski crystals and pearls, genuine Nappa leather, and Scandinavian Fox fur. Prices range from $7,000 up to $9,000 for these wearable works of art.
Pros
The best part about FRENDS headphones is the innovative ear caps that can be swapped out at any time. Instead of having many different sets of headphones in different colors or patterns, you only need to buy different caps to keep your headphones looking fresh. The caps are easy to change by placing your palm over the cap and twisting counter-clockwise to unlock it. Do this for both caps. When putting on a new set of caps, look on the back for the words "Top" and "Right" or "Left". Match these words with the same ones on the ear piece and twist clockwise to lock it in. Do the same for the other side.

All of the headphones offered by FRENDS are compatible with Apple devices. You can listen to your music with these headphones plugged into your iPhone without worrying about missing an important call. The mic gives you the ability to answer calls without having to have your phone in your hand.

FRENDS headphones are fully adjustable and are designed to provide a comfortable listening experience for all head shapes. To adjust, place your hands on the bottom of the headband, just above the metal piece attached to the ear cup. Carefully push upward so that the interior of the headband adjusts. Gentle pressure should be enough to open up the arch of the headband.

If you purchase a defective set of FRENDS headphones they do come with a 1-year Limited Warranty. If you happen to break your FRENDS headphones, contact the company for a 25% off discount code that can be used for the purchase of a new set.
Cons
The average reviews for FRENDS headphones on Amazon are between three and four stars. While they get overwhelming compliments for their looks there are some quality issues.
The features of the 3-button microphone are limited to the middle button to answer/end calls and start/stop songs for Android products
The ear cups cause discomfort after an hour of listening
Volume does not go high enough for those hard of hearing
Cord frays easily
Poor customer service
Verdict
FRENDS offer a unique solution for those who want to listen to their music in style. With their interchangeable ear caps, you never have to worry about your headphones clashing with your outfit again. While the sound quality is not bad, it just is not the priority of this company. If you are concerned about the look of your headphones and are willing to sacrifice a little bit of sound quality, FRENDS is the way to go. With new designs being released almost every week you won't be disappointed.