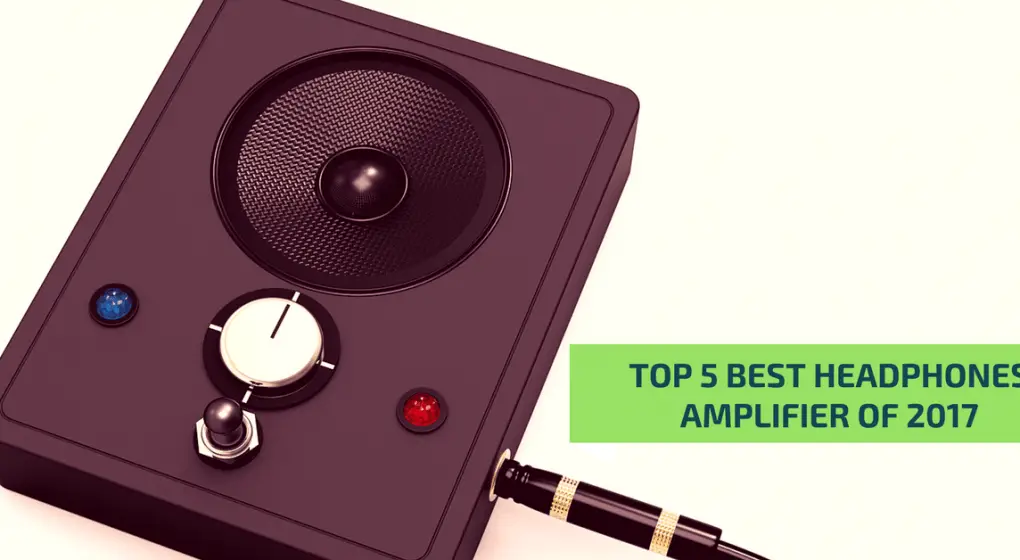 Equipped with considerably more output to power your headphone, a headphone amplifier will provide an enhanced listening experience to your music.
The intention is not for the music to become louder, but for it to sound cleaner and more controlled than it is able to normally, especially during peaks.
Though, the amplifier can also make it louder if you so wish. This means certain elements in the track that your smartphone doesn't pick up on as well as your laptop for example, can be enhanced.
This also means that if you have a poor volume supply and control from both the headphone or device, then you can rectify this through the headphone amplifier.
Let's take a look at some of the best options:
Buying Guide
Value Section:
Why do I need a headphone amp?
How to choose the best headphone amplifiers?
Headphone amplifiers come in a range of different styles and designs, with some in the form of a USB you can take anywhere, and others being much heavier and more suited to home studio use.
Depending on your headphones, you will need a model capable of working with the different impedance ratings, so it's good to check the stats of each model against the headphones you intend to use them with.
Also, you will find headphones amps tend to have lots of other features to enhance not only the music (such as gain control) but also other handy tools to work with your other devices too, such as being able to charge your phone from then.
The model you choose really depends on your requirements as user, but also the quality and type of headphones that you use.
The advantages of headphone amplifiers
When you plug your headphones into your smartphone, there is limited volume, power and sound enhancement options, that may limit the sound quality you actually receive.
How limited depends on the impedance rating all headphones have. Regular headphones designed for use with smartphones typically have a lower impedance rating, however audiophile quality headphones have a much higher impedance rating.
Without a headphone amplifier, you will lose significant volume and overall sound quality especially if listening through professional, audiophile quality headphones.
Another advantage is that if you struggle with your hearing generally, then an amplifier has the potential to help you hear certain ranges that you would normally struggle with, given its whole purpose is to drastically increase the overall output.
Though it should be said that no matter what you hearing ability, a headphones amplifier has the potential to completely transform your listening experience for the better.
What Are The Best Earphones With Mic Models?
Summary: Appropriate for headphones ranging from 16 to 150 Ohms, the aluminium built FiiO A3, has a completely discrete bass boost circuit, which increases the output by 3.5dB at 60Hz.
This produces a mild swell of low end energy that ensures the overall sound field is preserved.
When off, the bass boost circuit will bypass meaning low noise floor and pure sound quality.
The FiiO A3 takes 4 hours to charge, giving a maximum of 16 hours output. Whilst it might not a suitable enhancement to the most power hungry of headphones, it will give the majority of headphones a significant boost the volume and clarity produced.
As well as having a dial to control the hi/low gain and hi/low bass, this model also comes with a couple of different cables. Though it should be noted they are quite short, so it might be a good idea to invest in longer cables for regular use.
Bullet Point 1
Bullet Point 2
Bullet Point 1
Bullet Point 2
Summary: This Dragonfly Red headphone amplifier from AudioQuest is the updated version of the black model, and boasts a 2.1v Output and a 32-Bit SABRE. It will play everything from MP3s to 24-bit/96kHz high-resolution files.
This particular model is also award winning, as it has won the following accolades: The Absolute Sound 's Product of the Year Award (Budget Component), Stereophile 's Product of the Year (Digital Component and Budget Component) What Hi-Fi 's Product of the Year (USB DAC), and Computer Audiophile 's DAC of the Year.
As well as giving an excellent listening experience, there are cool features such as the logo that changes color depending on what sample rate you are playing at the time.
Though it is small and compact compared to most headphone amplifiers, an obvious downside with the USB aspect means that is it's not going to be compatible with smartphone use, rather laptops and pcs. This means unless you buy a separate adapter cable, you won't have the full range of usage compared with models that attach straight onto your headphones.
All in all though, this is a minor issue that can be overcome if you simply buy an extra cable so in the grand scheme of things, if you are serious about upping your audio quality this would be an excellent model to choose, as it gives an outstanding enhancement to your music and is packed full of features that would delight any audiophile. Plus, it's small and compact design means it's great for taking anywhere with you.
Bullet Point 1
Bullet Point 2
Bullet Point 1
Bullet Point 2
Summary: The Magni 2 is a model built with every headphone in mind, due to its switchable gain which provides the low noise floor you need for sensitive headphones, as well as the power for hard-to-drive high-impedance headphones and orthos.
As a result, the sound produced is World class. The Magni 2, unlike so many similar models have fully-discrete amps, and uses a new gain stage with non-stop feedback across the entire audio band.
Though excellent in terms of audio performance, a possible disadvantage with this model is its bulky size weighing in at one pound. This means it's not going to be the most convenient thing to carry around with you, especially on the go. So, with the Magni, it is probably better suited to home studio use.
Bullet Point 1
Bullet Point 2
Bullet Point 1
Bullet Point 2
Summary: This portable headphone amp from Indigo provides up to 250mW power output and can work with headphones that produce 16 up to 150 Ohm. It also has various controls such as bass boost and volume, as well a dual headphone jack which is useful to be able to enhance the sound of two people listening at the same time.
Whilst this Headphone amp will enhance your music, it really depends on the headphones you are using. Entry level or typical apple headphones for example, might not see much of a difference. In contrast, using with better quality headphones will give a nice clarity and boost to the highs.
The maximum battery life is 8 hours, which isn't the most generous compared to other models so would suit light usage rather than anything too heavy.
Bullet Point 1
Bullet Point 2
Bullet Point 1
Bullet Point 2
Summary: The Oppo HA-2SE has a frequency response of 20 Hz – 200 kHz and a headphone impedance of16 Ohm – 300 Ohm. It will give you a run time of 13 hours after a 90 minute charge.
On the side of the device, it has options to adjust the gain and bass boost, as well as line out/audio in located next to the headphone input. Another cool feature with this model is it has a mobile charging bank, so you are able to charge your phone as well as boost your headphone capabilities.
In terms of the sound, the Oppo really does pack a punch and will bring extreme clarity to even the faintest of background sounds normally lost in the track, especially when listening through your phone or laptop.
Compared to other models, the Oppo HA-2SE is very sleek and stylish in appearance and weighs just 175 grams, making it suitable for everyday use on the move. It's also supplied with a range of different cables, ensuring no matter what device you intend to use this with you can do so with ease.
Bullet Point 1
Bullet Point 2
Bullet Point 1
Bullet Point 2
Conclusion:
Whilst each of the above models would make an excellent choice depending on your requirements, the overall winner has to be the AudioQuest – DragonFly Red USB DAC/Headphone Amplifier.
Granted, the USB connectivity means you will need a separate cable which is a hassle compared with the Oppo HA-2SE which in comparison, comes with its own cable bundle for every eventually.
However, in retrospect this is a tiny issue given this model is award winning and well recognised throughout the industry for it's incredible performance.
Plus, given its small size it's a breeze to carry around with you, compared with larger bulkier models which are only really suitable to use at home.
Overall, it would make an excellent choice for enhancing your listening experience over a wide range of headphones.

Citation Links:
What is a headphone amplifier?: https://www.innerfidelity.com/content/ultimate-headphone-guide-articles-what-headphone-amplifier-and-why-do-i-need-one
How to choose a headphones amplifier: https://www.rha-audio.com/sg/blog/75508/an-introduction-to-headphone-amplifiers-part-2