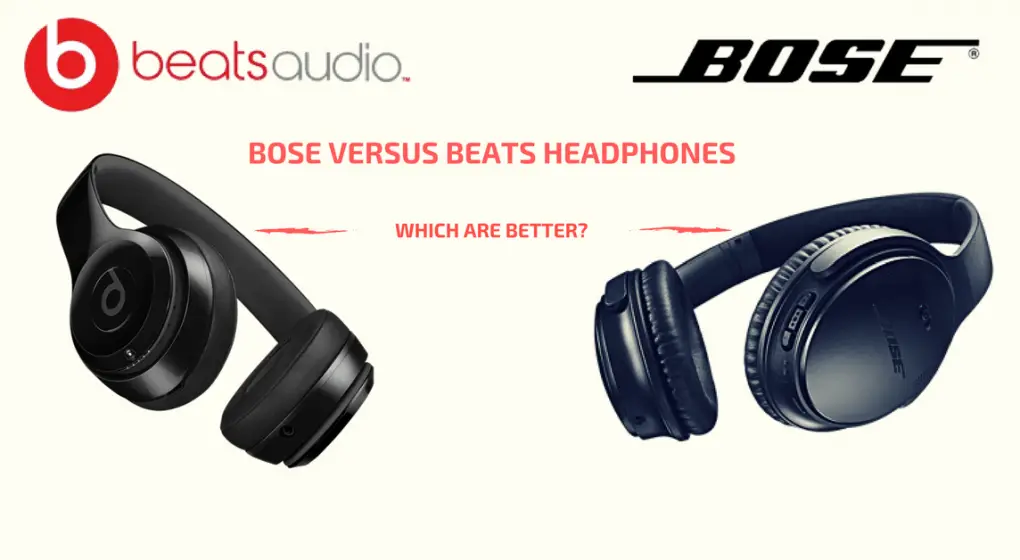 Bose Versus Beats Headphones, What's the better option for you?
In today's world of computers and technology, music is certainly a large part of the technological advancements that have been made.  Not only has the way music is produced and recorded changed, but so has the way we listen to it.  It may seem hard to believe, but the electrophone, a primitive set of headphones, was invented by a French engineer, Ernest Mercadier, in 1891. Improvements continued to be made and in 1958, the first stereo headphones were produced, revolutionizing the way people listened to music.  Today, headphones come in a variety of styles, shapes, sizes and colors.

Bose
The Bose Corporation produces a variety of headphones for consumer use as well as use by the military and aviators.   The company was founded in 1964 by Dr. Bose and continues to develop internationally known, innovative audio products.  Bose states that their mission is to "think of better solutions, create better products, and help people enjoy the things they love".

Bose is recognized as the first company to produce active noise canceling headphones for consumer use.  Their QuietComfort line was released in June of 2006 and was the company's first set of over the ear headphones.  Made with noise dampening memory foam, the over the ear design produces even greater noise isolation. The QuietComfort line began with the "QC3", or the QuietComfort 3 Acoustic Noise Cancelling Headphones, and has progressed to the QuietComfort 35 which was released in June of 2016.

Today Bose offers a variety of high-quality headphones including earphones, over the ear headphones, noise canceling headphones, wireless headphones, and sport headphones.  The over the ear headphones only come in the traditional color choices of black or silver, but some of the earphones and the sport headphones are offered in a limited variety of colors.

Prices for Bose headphones start around $99 for basic in-ear headphones.  The SoundSport in-ear headphones are made in two versions, one compatible with Apple devices and another for Samsung and Android devices.  These earphones are perfect for the active person who wants earphones that will stay put while they are on the go.  SoundSport earphones are sweat and weather resistant.  TriPort technology provides crisp highs and natural-sounding lows. With their proprietary StayHear tips, they conform to your ear's shape for a comfortable fit while staying secure in your ears even during vigorous exercise. They include an inline microphone with a remote that enables you to easily control volume, skip tracks, and take calls.  Available in five energizing colors, these earphones will survive the demands of your busy life while delivering balanced sound that conventional sports earbuds can't match.

The SoundSport headphones also come with a color coordinated matching case.  When you aren't using your SoundSports, you'll know they are safe in their sporty case which also provides space for your keys and cash.  The attached carabiner easily hooks to a pocket or bag so you can quickly find your SoundSports when you need them.

Currently, the most expensive Bose headphones are the QuietComfort 35 wireless headphones.  Without the background noise and unencumbered by wires, these headphones are advertised to help you "lose yourself in the music".  The QC35 headphones come with Bluetooth technology and noise cancellation that keeps out the background noise to make your music sound better. The Bose Acoustic Noise Cancelling technology continuously measures, compares, and reacts to outside noise, then creates an opposite signal to block the noise. With state of the art batteries, these headphones provide up to 20 hours of listening enjoyment.  An added feature is that you can gain an extra two and a half hours of listening with a quick 15-minute charge. These headphones are made with impact-resistant materials, glass-filled nylon, and corrosion-resistant stainless steel, to withstand the demands of an active lifestyle. Adding to their comfort, the ear cups are covered with Alcantara, an ultra-soft material that will keep your ears happy even after hours of listening.

Beats
Beats by Dr. Dre (Beats) is a brand of audio accessories founded by Dr. Dre and Jimmy Iovine in 2006. This company offers a selection of premium consumer headphones, earphones, and speakers. Beats was acquired by Apple Inc. in July 2014.

The original product line that kicked off the company's success was the Beats by Dr. Dre headphones. Dr. Dre promoted his products with the claim that Beats would allow people to "hear what the artists hear, and listen to the music the way they should: the way I do." Beats products are characterized by a heavier bass sound that is optimized for hip-hop and pop music.

Beats headphones get strong positive reviews for their stylish appearance and variety of color choices.  Critics argue that this brand is high priced because of its appearance while lacking in quality and function.

Beats offers a variety of headphones and earphones.  Both categories have wired and wireless offerings as well as noise canceling models.  Depending on which product you choose, there is often a wide variety of colors available to pick from.

An entry level set of Beats starts around $99 with their urBeats earbuds or the Beats EP.   Both products are offered in a variety of different colors, from black to purple and feature an exclusive driver design to put out the deepest bass, soaring highs, and ultra-clear midrange, while the sealed in-ear construction and multiple ear tip design blocks out external noise.  They are lightweight and have a hard chrome finish, making them durable and ideal for listening during exercise, travel, or for everyday wear. The urBeats built-in mic lets you talk or video chat hands-free on your iPod touch or iPhone.  The Beats EP allows you to take calls and control music on your iOS devices with the RemoteTalk cable.

If you want a pair of high-end Beats, the Beats Pro may be what you have been looking for.  Offered only in black, these headphones have the even frequency response of studio monitors for ultra-accurate recording, mixing, and playback.  Designed  with comfort in mind, the greater earcup foam density and precise fitting shut out external noise for accuracy and clarity.  Additional features include:
Ability to share what you are listening to by plugging your cable into one earcup and switching the other port to output mode
Backward rotating ear cups allow you to monitor the room, studio, or club at all times
Designed to yields superior sound isolation with maximum comfort and minimal ear fatigue
Ear cups are removable and washable
Conclusion
Both Bose and Beats offer a variety of products to meet the needs of any serious music enthusiast.  Whether you are looking for in-ear headphones that will stay securely in place when you are on the go or over the ear headphones that provide the ultimate listening experience, Bose and Beats have a product for you.  Bose offers a more traditional listening experience with their expertise in noise canceling technology.  Beats is focused on design and appearance as well as creating a listening experience similar to what the musician hears.  No matter what your preference or price range, Bose and Beats have something for everyone.