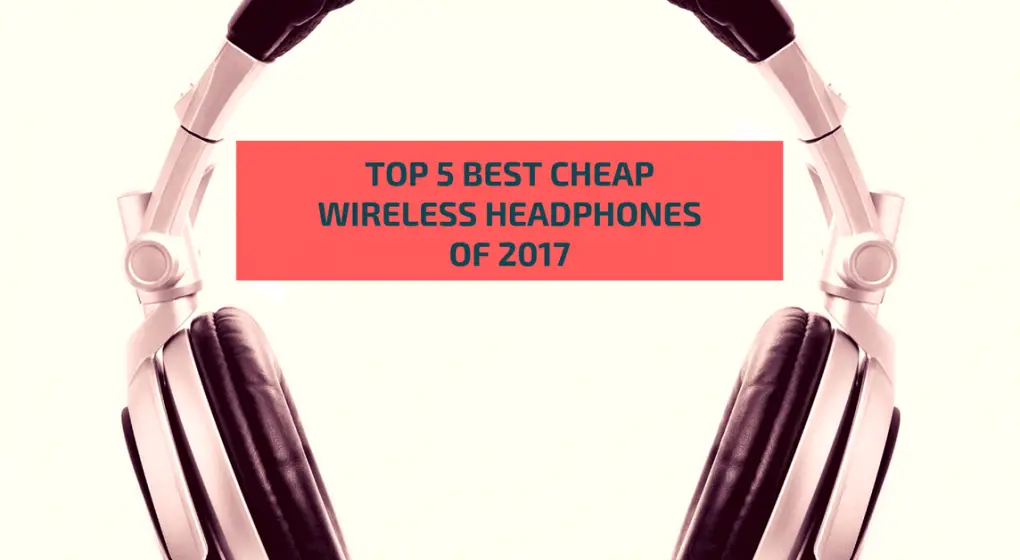 Headphones give us the option to make our music personal, though with the long cords that are prone to tangling and breaking, they are not always practical for every use we need them for.
While going wireless might seem like costly affair, the great news is that there are actually a wide range of models available that retail at a very affordable price, with an impressive list of features to boot, depending on your user requirements.
Let's take a look at some of the best options:
Buying Guide
How to choose cheap wireless headphones?
When it comes to choosing wireless headphones, fundamentally, it all depends on what purpose you most need them for. There are different designs featuring a headband, no headband, one ear or two ears, depending on what suits your usage patterns.
For example, some wireless headphones are designed with sports use in mind, so they have a frame built into them. This is useful for keeping the headphones secure to your head especially as you pound the pavement. Though, if you want wireless headphones primarily for driving, something such as a single ear device with Bluetooth capabilities might be more appropriate.
Also, when it comes down to the sound quality, is this more important to you over functionality? If you are not intending to listen to music rather just intercept calls, then a single-ear or mono device would work better, especially if you are on a budget; otherwise you will end up paying for features you are not going to use. So, it's best to choose what you will most need your wireless headphones for, and go down a specialized route for that purpose.
What are the advantages of cheap wireless headphones?
There are many advantages to wireless headphones, the main one being that not being tied to a cord is much less of a hassle. For example, if you are out running, you don't have to worry about the cord getting tangled up or being yanked out of your ears. Also, without a cord, you are free to move anywhere in the house without the restriction of being tied to your device, so great if you want to listen to your music while going between several different rooms.
These days, wireless headphones often have technological features such as Bluetooth, rechargeable batteries and an inbuilt microphone, meaning you won't be missing out just because you aren't tied to your device. With Bluetooth, you can also intercept calls as your listening device also doubles up as your phone while on the go; as well as giving a sleek experience, they can also double up as your office while on the move.
Things to look for
Seeing as you are leaving the wires behind, you want your wireless headphones to be sleek in design and comfortable to use, so the frame should be lightweight and the ear sockets should not only provide great sound, but also e a comfortable fit. Depending on if you have sports activities in mind, the fit should also be quite snug so that it won't fall off during exercise.
Tech wise, Bluetooth capability is one of the main features which will give you the most out of your device. Though it's not essential, having it will mean you can use your headphones for more than just listening to music. If you are very busy with the calls you receive, then not being constantly interrupted by having to find your phone to answer it could make things a lot less stressful, especially if you are out running.
You should also look out for headphones with a good battery life, and also batteries that are easy to charge. The last thing you want when you are using wireless for convenience is to have the device run out of power at a critical time, such as in the middle of a call.
The best way to use cheap wireless headphones
Depending on the activity, there are many ways to use your wireless headphones that will not only enhance your listening experience but will make life easier too.
If using Bluetooth, it will depend on the range of the device as to how far away you can move from your phone so that you can still intercept calls; however, most headphones have a fairly decent range so that you can continue your daily activities without the device cutting out.
During your commute, wireless headphones can be beneficial especially on public transport as this will mean you can secure your device away safely without it being exposed to theft, like they would be if wired to your phone or other devices, which would require them out in front of you or in your pocket.
Wireless headphones also allow for hands-free use except when changing up a song or taking a call, so overall, making things easier and the experience sleeker. You can tailor the experience to make things work for you, depending on what your daily activities consist of.
What Are The Best Cheap Wireless Headphones Models?
Summary: These in-ear style headphones from M1 offer a sleek, lightweight solution to what can often be a bulky and heavy experience with headphones. This particular model is sweat proof with sports use in mind, and would be perfect for the morning run with 6 hours of battery life and 180-hours standby time. The fit is also designed with high-octane use in mind, as it comfortably grips to the head so the user can move without the headphones slipping or falling off during workout sessions.
As these headphones are Bluetooth enabled, they allow for calls and have 4.1+APTX technology to allow for fast pairing with devices.
While it's difficult to find fault with these headphones, one possible downside is that the silicon tips are a little cheap feeling, and could be made of a nicer material. Though overall for the price, the M1 wireless offers excellent value for your money.
Bullet Point 1
Bullet Point 2
Bullet Point 1
Bullet Point 2
Summary: These Andoer headphones have a set frame with the ear buds in a fixed position. On the one hand, this is great for running as it will mean they are kept fixed to your head, though some users might prefer a more flexible wired frame that can be easily adjusted. There is, however, some room for adjustment at the length of the earbud on the end of the frame, so it is partly customizable.
This particular model also has an FM radio function, meaning you can catch up on the latest news while out running, and of course, this gives some variety to your regular playlist. It also supports MP3, WMA and WAV files.
It offers users 6 hours of running time, which is fairly standard for most wireless headphones, though it would probably require frequent charging if you exercise daily.
As for the sound quality, it is dual-channel for a rich listening experience. Though, as with most traditional ear buds, the sound is perhaps not as rich or deep as over-ear headphones. The main benefit with this design is comfort and ease of use over the musical experience.
Bullet Point 1
Bullet Point 2
Bullet Point 1
Bullet Point 2
Summary: Ditching the wires and the headband altogether, the Andoer Compact is a device that fits over either ear. One of the main benefits with this design is you are able to continue speaking with others and hear the outside world, as most headphones obscure both ears, meaning it can be difficult to do both.
When driving, you can take a call but still remain focused on driving and the other drivers around you, more so than if both ears were immersed in the call. While this is convenient, one downside is that it will give users a one ear or "mono" listening experience, so is not ideal for listening to music or experience great quality sound with lots of depth to it.
On the plus side, as this model is fairly minuscule in size, it gets rid of the bulk but also looks sleek when worn over one ear, compared to traditional heavy headphones with thick padding or lots of wires.
Bullet Point 1
Bullet Point 2
Bullet Point 1
Bullet Point 2
Summary: If you don't like the ideal of having a fixed frame, then these headphones offer the user something a little more freeing in the form of a flexible wire design that fits around your ears and head without any frame or structure.
This headset will give you Bluetooth capabilities, noise reduction, 20Hz-20KHz frequency response and a standby time of 175 hours. Though at 3-4 hours talk time or 2-3 hours of music time, this model is not as long lasting as other wireless headphones on the market, and would require a regular charge if you are a heavy user.
The sound quality is fairly good considering the lack of space for technology, though at times the earphones can sound a little crackly.
One benefit you don't see in many wireless headphones makes is the choice of color, as this model is available in a range of colors including black, blue, yellow, hot pink, white and green, so you can choose a look to match your workout clothes.
Bullet Point 1
Bullet Point 2
Bullet Point 1
Bullet Point 2
Summary: Designed with not only high impact sports in mind, but also hiking, the Beyution@ wireless headphones also have a dial section to control the volume and other options, which is a welcome addition to what are a pair of both wireless and frameless headphones.
Unlike some wireless headphones, where you sacrifice sound quality in place of being free of wires, this model boasts Bluetooth 4.0 in conjunction with and aptX audio codec technology, to produce a full and clear sound.
These headphones give users a 6-hour run time, and connects to a wide variety of devices including most iPhone models, iPad, iPod, Android smartphones, Samsung Galaxy, Galaxy Tablets as well as Mac computers and any laptops with Bluetooth pairing capability.
The headphones are also supplied with six interchangeable tips depending on what feels comfortable for your ear size, and hooks with stabilizers to change up how you wear them.
Bullet Point 1
Bullet Point 2
Bullet Point 1
Bullet Point 2
Conclusion
While the headphones most suited to you will depend on what type of activities you most need them for, the top pick from the above would be the Beyution@ New Sport Wireless Bluetooth Stereo Earbuds Headphones with In-Line Microphone. Quite simply, these give users more options, not just with device pairing capabilities, but also the ear tips which, on some models, can be uncomfortable and non-interchangeable. Whether you prefer the buds on their own or ear hooks for stabilization, you have options, which means you are not limited to gentle walking or running as is the case with some wireless headphones.
As well as the run time being quite generous, compared to other models, sound wise, they definitely pack a punch. While some wireless headphones can leave you with poor performance as a tradeoff for functionality, the Beyution@'s are noise-isolating earphones and excellent audio quality overall. Therefore, you are not missing out by ditching the wires, and can still experience a decent sound quality while going hands-free.
These headphones would fit quite easily into your pocket, and also come with a carry pouch to protect them in your bag. Overall, all aspects of the design and user friendliness have been best addressed with this model, compared to the others reviewed.