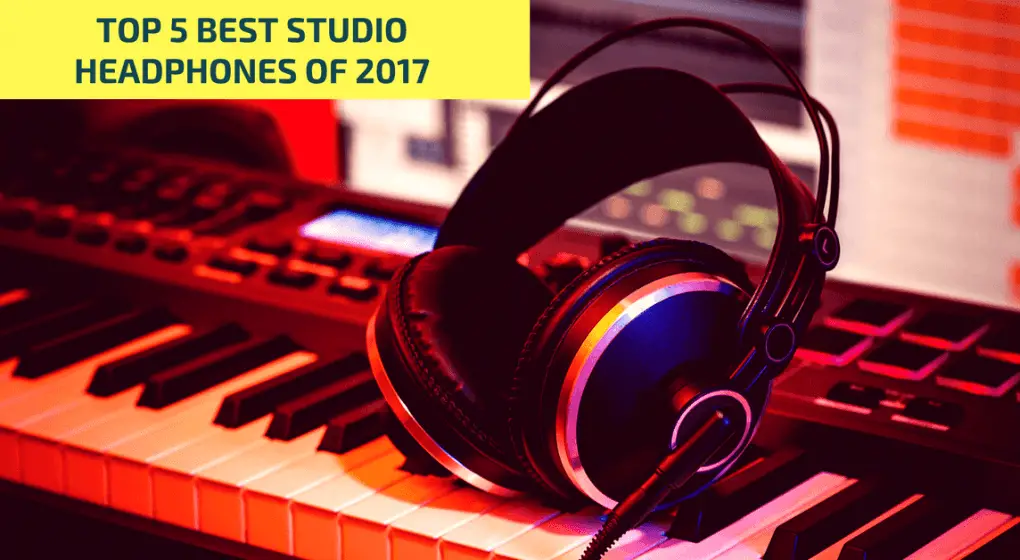 While in the studio, you may use a variety of monitoring setups to experience your playback and help you in the recording process. However, you will also need a pair of purpose-built headphones, not least for the recording and mixing stages.
Headphones for studio use are purposely adapted with clarity in mind to be able to hear exactly how the mix is sounding, and for recording artists and musicians to hear exactly when to cue their sections and hear the tone they are producing, as well as the pitch and the beat.
Some of the best models on the market you may wish to consider are:
​Top 5 Best Studio Headphones Of 2017
Panasonic Quick-Fit Over-the-Ear DJ Stereo Monitor Headphones RP-HTF600-S
Buying Guide
How to choose headphones for studio recording
While it really does depend what you intend to do in the studio, overall, you should look for a robust pair of headphones that offers an adapted experience to regular headphones. This includes factors such as good noise cancellation to allow vocalists to hear the nuances and tone of their voice, but also features that will enhance the experience of the recording and mixing progress—not make it more difficult or inaccurate.
While studio headphones can be found in a variety of styles including closed back, open back etc., you may want to go with sealed headphones to totally isolate everything but your voice and the mix. However, some singers prefer open-back options where they can record with one ear in the mix and the other out, so that the sound isn't strange, as after all we hear our voices differently in our head to how they sound to other people; this can make it difficult for singers or if you are recording choirs.
You should consider which purpose is the most important before you decide which style may be right for you and will give you the best experience.
The advantages of studio headphones
First and foremost, unlike heavy speakers, headphones are portable and allow you to connect to a multitude of devices
If you do use headphones over speakers, not only is this more cost efficient and ideal if your home studio is surrounded by neighbors who might not appreciate the noise, it also allows for consistency each time you mix and record
Not all headphones are built equal, and specifically designed studio headphones will give you an accurate representation of the sound you are producing. After all, you wouldn't use in-ear headphones to record vocals in a sound booth
Things to look for
Many headphones are inbuilt with "sweetening" to enhance the sound through the headphones; this is why you may notice your mix sounds bouncier through the bass when you listen through your headphones, as opposed to playing back through your computer speakers. This is all well and good for listening back at the time, though for mixing you want your headphones to give a flat frequency response so the sound is perfectly accurate.
Also, avoid headphones with an overly long cord and if possible, choose headphones with interchangeable cords so you can switch up to suit. If the cord is too long, there is every chance it can get tangled, broken or can experience interference down the line. However, it still needs to be long enough to reach different musical instruments and mixing interfaces you may need to plug it into, especially if you are using a soundproof booth a few feet away from your main setup.
Practicality wise, if your studio is going to be used by many people, consider buying headphones that are durable, especially around the frame, and look at how well they adjust. You'd be surprised how many other people don't take as gentle care of studio equipment when it's not their own, so you need something that's physically well built to withstand the odd throw or slam to the ground.
The best way to use studio headphones
Your headphones are an extension of you and your creativity in the studio, and depending on which model you buy and how you use them will determine how much potential you can unlock from them. They need to help and progress the recording and mixing process, not hinder it, so it's important you know how to use them and how their use may differ from headphones you plug into your phone to listen to music or even for conference calls on Skype.
When recording vocals for example, you may wish to use only one ear of the headphones with the other side flipped around or slipped above the ear if you are using closed/sealed headphones.
On the flip side for mixing, you will need to use both sides to mix L&R effectively, unless you are mixing in mono, which some producers actually advocate. Though in general, you will usually be mixing in stereo so you need to hear both sides accurately.
When using your headphones, there should be an equal mix between left and right for things such as bass and vocals, though you can use your headphones to hear which side to pan certain instruments and effects to. The best way to do this effectively is to make sure your headphones are using a flat frequency to ensure certain elements are being enhanced, not just though your headphones but in the actual mix.
Think of your studio headphones like an honest mirror on social media. You don't want heavy Photoshop or Instagram filters enhancing what you actually see (hear), you need them to give you a completely accurate representation so you know what you are dealing with and what needs to be changed, added, or even taken away.
What Are The Best Studio Headphones Models?
Summary: Audio-Technica are a brand known for their innovation in a wide variety of studio equipment, and their headphones are equally popular. The ATH-M30x headphones are supplied with a soft leather travel pouch and a ¼" adapter. They have a range of 15-22,000 Hz which covers the entire range of human hearing, and one of the best features with this model is that they are flat-frequency sounding; this means they give an accurate representation of the sound, not bass enhanced like so many of its competitors, which sounds good at the time but isn't how the final cut will sound. This is why neutral frequency is so important with headphones you intend to use in the studio.
Though, one con with the Audio-Technica ATH-M30x's is that they don't provide complete noise cancellation. While the headphones do cover the ear, they are not as spacious as competitors, meaning some background noise can leak through. This might not be an issue for some, but it is worth bearing in mind, depending on your role in the studio.
While overall these would make for a solid pair of studio headphones, another point to keep in mind is that the cord is 9.8'' straight, and is not detachable.
Bullet Point 1
Bullet Point 2
Bullet Point 1
Bullet Point 2
Summary: If you need a solid all-round pair of studio headphones, then you can't go wrong with the Sony MDRV6 Studio Monitor Headphones. First released in 1985, they are still widely used and recommended for studio use, and are one of the most recognizable pairs of headphones used by engineers and recording artists alike.
These headphones are built with voice call, which is also known as a dynamic driver, and is the most common type found in headphones, and is the technology that is derived from microphones to produce the sound. These headphones also have neodymium magnets and 40-mm drivers which will achieve a detailed and powerful sound.
In terms of being studio friendly, they provide flat frequency for accurate sound and they have a 10' long curled cord which comes with an adapter so it can be plugged into different equipment and devices. The ear cups are folding and sit on a headband that is wide and adjustable.
While they are not the newest to the market, the fact they are still highly sought after and recommended in 2017 speaks, and in this case also delivers volumes.
Bullet Point 1
Bullet Point 2
Bullet Point 1
Bullet Point 2
Summary: The Status Audio Closed Back Headphones offer a flat-frequency response, 50-mm drivers and two detachable cables (coiled and straight) for ease of use in the studio and beyond.
A choice of cables is always a plus for working in different environments, and Status Audio CB-1's are fitted with a twist and lock mechanism, so that the cord cannot be pulled out which can be a problem if working in a crowded studio.
These headphones have a generous ear cup size, and interestingly, the inner cut is shaped like an oval to better suit the shape of the ear. Most headphones are circular both on the outer cup and inner cup, which, although it can sometimes allow for good isolation, it's not always the most comfortable; however, with the Status Audio CB-1's the oval shape really seals in the ear.
Though the headband could be more padded for extra comfort, it does fold down, making for ease of both storage and traveling between studios. This design will promote longevity of the headphones as they are less likely to break if they are compact during storage.
Bullet Point 1
Bullet Point 2
Bullet Point 1
Bullet Point 2
​Panasonic Quick-Fit Over-the-Ear DJ Stereo Monitor Headphones RP-HTF600-S
Summary: The Panasonic RP-HTF600-S headphones offer users a lightweight, comfortable feel with 50-mm drivers that are combined with neodymium magnets, a single non-detachable cord and 100 DB sensitivity.
While they offer users a powerful performance, one major drawback to note with these headphones is that they are not flat frequency. Like other Panasonic models, which are quite popular, they have a greatly enhanced bass range. While this makes the music sound amazing in the moment, they don't provide an accurate representation of the mix as a whole.
You could still purchase the Panasonic RP-HTF600-S's for recording in the studio, especially as you will hear the drums and bass more clearly; however, they aren't suitable for mixing so don't provide all-round value, and you'd need a different pair of headphones or studio monitors to rely on to bring everything back into neutral.
Overall like the name suggests they are perhaps better suited to DJ and regular music listening use, whereby the extra enhancements are a welcome addition and not a critical distortion of the actual mix.
Bullet Point 1
Bullet Point 2
Bullet Point 1
Bullet Point 2
Summary: If you require a set of headphones that boast typical studio requirements such as flat frequency and a detachable curled cord, yet also have excellent isolation qualities, then the Sennheiser HD 380 PRO is a worthy option.
These headphones have extra-large ear cups, which is one of the best ways to guarantee outside noise is excluded, and they are made from comfortable padded material for long-wear use in mind. The ear pads are also replaceable with product longevity in mind.
Sound wise, bass, middle and treble notes can all be clearly heard with perhaps slight preference to the treble over the lower tones, yet these do not produce the tinny sounds some neutral headphones provide. These headphones also have increased sound pressure at 110 dB so can handle even demanding use.
The Sennheiser HD 380 PROs also come with a travel bundle which includes a carry case, as well as a ¼" jack and detachable cables.
Bullet Point 1
Bullet Point 2
Bullet Point 1
Bullet Point 2
Conclusion
While ultimately the pair of headphones you choose for studio use may depend on several factors, the best all-round studio headphones has to be the Status Audio CB-1 Closed Back Studio Monitor Headphones. Potentially you could use any headphones for studio use, but if you want clarity of sound and the ability to switch between cables, then Status Audio CB-1's are the pick of the bunch.
These headphones deliver exactly what the audio is doing, while being ergonomically built with the practicalities of studio life in mind. They are, overall, the most reliable for all the factors that are imperative within studio recording and mixing.