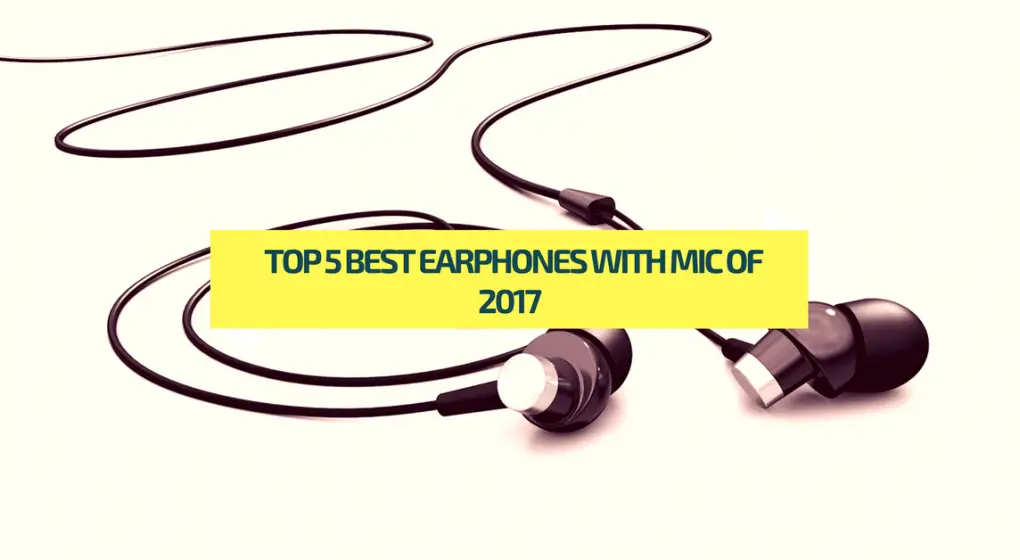 It is no longer the case whereby you have to buy headphones and microphones separately, or even rely on your computer for the latter. These days, you can buy headphones with inbuilt microphones as well as other features such as Bluetooth all in one.
Let's take a look at some of the best options:
​Top 5 Earphones With Mic For 2017
Buying Guide
What type of headphones should you buy?
This all depends on what you need your headphones for such as gaming, long haul flights, exercising, Skype calls or even music production.
Each different use calls for a more tailored approach when it comes to things such as the headband for example; are you looking for something comfortable with excellent bass boost, or something that is sleekly designed to stay fixed to your head while out running, with much smaller earbuds?
When it comes to the quality of the mic, do you need something that works quite basically for intercepting calls, or something which will provide crystal-clear audio so you can record gaming videos on YouTube or take important Skype calls with clients?
Different brands, and indeed different designs, will offer individual options, and so in many cases, it's not always the brand name or price that's most important, rather choosing the option that's right for how you wish to use it. Top-of-the-range audio engineering headphones are great, but not so practical out on a hot day out running.
The advantages of earphones with mic
Combining private listening with being able to communicate has a wide range of benefits. For example, if your commute tends to involve speaking to clients on the way, you can do so without disturbing other people while being able to speak to them without needing an alternate mic or device.
Also, some microphones on regular devices are not that powerful and can be located some distance from the user, so having the mic built in near where you speak will allow for clear audio. If the headphones also have Bluetooth, then you can intercept calls without having to switch devices, and you won't miss an important call if your phone rings while you are listening to music.
Earphones which have a built-in mic generally allow for better ease of use, and can offer hands-free options in selected models.
Things to look for:
One of the main aspects to consider is the design, seeing as headphones can take a number of shapes from traditional in-ear buds, to those with head frames and even frames which wrap around the neck. The style you choose will be depend on what you most need it for, and if you are looking for comfort over practicality, for example.
Some headphones are sweat and splash resistant, which makes them more ideal for long runs and hikes, over headphones that could be used in the studio, which focus more on large padding and noise isolation.
Also, note if the headphones require charging due to being wireless; are they practical to do so, and what is the average run time? Wired headphones are always going to be more convenient for this, yet not practical in certain uses such as sports or where they might get wet when connected to your phone, so it's a good idea to consider your usage requirements.
The best way to use earphones with mic
It sounds simple enough, but you need to ensure you choose the right type of headphones with the features that will best enhance your listening and speaking experience. Plus, there may be different controls and even apps available for your phone to enhance the listening experience beyond what the built-in controls will allow.
For example, if you want your headphones for gaming and live calls on Skype, the best way to use them would be to plug them into your device with the volume and audio settings customized to suit. This way, you are able to hear the other players/callers perfectly, and you won't require a charge mid-game.
If you are using headphones for sports use, you should make sure you get into a regular habit of charging them. Some models have a high-charge requirement which is fine if you don't exercise all that often, though you might want to upgrade if you do.
Like most people, if you use your headphones with your smartphone, you might want to customize the audio settings to ensure the music sounds as good as it can, but also your mic isn't too low so that your calls sound great too.
What Are The Best Earphones With Mic?
​Bose SoundSport Wireless Headphones, Black
Summary: Bose SoundSport Wireless Headphones are among the best-reviewed headphones in their category on Amazon. There are many boxes that get ticked by this device. Let us find it out here.
With this headphone, you can certainly expect to experience high-quality audio. With Bose active EQ always working for you, you can be sure of getting balanced audio quality at different volume ranges.
Many users of Amazon have reported good comfort factor after using Bose SoundSport Wireless Headphones. While the wires will certainly not distract you from enjoying this device, the headphones offer you the ultimate comfort.
Price is possibly the only drawback this device has got. Yes, the device has been packed with lots of features, but the price is still on the higher side. Add to this drawback, deals and discounts are pretty tough to find on this product. Currently, this Bose device is listed on Amazon for $149.
Bose SoundSport has a unique shape and comes with soft silicone material that provides the perfect fit to you even under extreme usage conditions. And when you use it with Bose Connect app, it becomes easy to control and switch between different devices easy and hassle-free.
One reviewer on Amazon feels that the battle life of this headphone is poor and nowhere near as advertised by the company. While the company claims it to be around 6 hours, the user says he hasn't been getting more than 3 hours
Pros
Excellent quality
Great sound
Good comfort
Cons
Poor battery life
Low durability
Bulky
​Jaybird X3 In-Ear Wireless Bluetooth Sports Headphones
Summary: Founded by Judd Armstrong, an Australian entrepreneur and currently owned by Logitech, Jaybird is a well-known and experienced consumer electronics company that primarily designs and manufactures wearable activity trackers and headphones. Jaybird X3 In-Ear Wireless Bluetooth Sports Headphones is one product that is creating waves in the marketplace.
The thing with this headphone is that it produces excellent sound quality. What's more, you can customize the product according to your liking and enrich your experience. A lot of credit for this has to go the MySound app that allows users to do this. On Amazon's site, a number of users have experienced bright, loud, and deep sound quality which I think is absolutely fantastic, especially when you know the headphone is priced competitively.
Jaybird X3 is quite comfortable to use. When the little wings provided in the device are set right they help keep them in the ear. It is also easy to set the cable's length. Once you're ready with these small arrangements, you can wear the device for hours!
Many users on Amazon have found the pricing of Jaybird X3 on the higher side. Currently, the device is listed at a reasonable price with free shipping.
With an 8-hour battery life, you can continue using this device without being interrupted.
The mini wireless buds that come with Jaybird X3 are designed to be as small as they can be. Both the looks and performance have been in-line with the expectations of a majority of users on Amazon. Also, to ensure a snug fit, the patented silicone ear fins are provided. Users have found them to be adequate while doing intense physical activities and workouts.
Pros
Long battery life
Easy to operate
Comfortable
Cons
Expensive
Occasional connection drops
Charging issues
​Mpow Jaws V4.1 Bluetooth Headphones Wireless Neckband Headset Stereo Noise Cancelling Earbuds w/Mic
Summary: If you are looking for wireless headphones with a mic and Bluetooth capabilities, then the Mpow Jaws V4.1 could be an option to consider. They have an unusual behind-the-neck design, making them perfect for high-impact activities as well as working around the house. Though, one aspect to consider with this style of headphones is that you do sacrifice comfort and listening power over the functionality of them being able to fit to your head comfortably while exercising, and of course being lightweight enough to do so.
These headphones also feature a shark-like magnetic design, with the earbuds able to be attracted to the mouth stabilizer when not in use. This will protect the earbuds from damage, which let's face it, can easily happen with earbuds as they can get squashed or broken in transit.
Sound wise, these headphones provide excellent sound quality both with the headphones and mic, and have CVC6.0 noise-cancellation technology to provide great isolation against outside noise, which is ideal when on the phone or in a Skype call.
Impressively, this model also gives 13 hours of continuous talking or music time, and 350 hours of standby achieved from a single charge.
Pros
Very comfortable
Pretty cheap!
Easy to use.
Cons
Not so good for intense activities
Average sound quality.
​Panasonic RP-HJE125-A Wired Earphones
Summary: If you prefer a traditional, in-ear headphone design that is versatile across many uses, then the Panasonic RP-HJE125-A Wired Earphones, is an option to consider.
In terms of sound quality, Panasonic is known for their punchy bass-enhanced headphones and overall excellent sound quality. These headphones have large 9-mm drivers with neodymium magnets and provide a wide frequency, with added noise isolation from the outside due to their design.
While one drawback is they are not wireless nor Bluetooth compatible, they work with all smartphone models; so, as long as you don't mind being tied to your device, you shouldn't have any issues. After all, you can still intercept calls from your phone and speak through the inbuilt mic, meaning you don't have to hold your phone to your ear the whole time, which can put strain on your arms and neck after a long while.
Also included in the bundle are 3 different sized ear pads, and you can choose from 5 different cord colors depending on your preference.
Pros
Bullet Point 1
Bullet Point 2
Bullet Point 2
Cons
Bullet Point 1
Bullet Point 2
Bullet Point 2
​Samsung Level U Pro Bluetooth Wireless In-ear Headphones with Microphone and UHQ Audio, Black
Summary: The Samsung Level U Pro headphones are built with active use in mind as they are splash and sweat resistant, and are available in a range of different colors. Featuring flexible urethane joints and a lightweight design, these headphones offer 9 hours of talk time or music playback, and will last up to 300 hours on standby.
If you use these headphones in conjunction with the Samsung Level app, it will provide you with additional features including SoundAlive, which will customize your listening experience over 25 different available genres. You can also access a volume monitor and text to speech through the app.
Though a possible drawback with these headphones is that design wise, they are not as attractive as other models on the market. While this doesn't change the fact they are great headphones, they aren't going to appeal to all ages, and don't represent the overall sleekness of Samsung—a brand which makes some of the most cutting-edge phones, tablets and televisions in the world.
Pros
Bullet Point 1
Bullet Point 2
Cons
Bullet Point 1
Bullet Point 2
Conclusion
Though this may surprise some readers, the top pick has to be the Panasonic ErgoFit In-Ear Earbuds Headphones.
Granted, models such as the Bose or Cowin probably offer a second-to-none sound experience in comparison, not to mention the Samsung headphones, which are perfect for active use more so than wired headphones, which can snag as you run if the cord is not long enough, plus they are so not practical for driving.
In the end though, having headphones which are simple, yet excellent in what they do are always going to be more user friendly. This is the case seen as the Panasonic headphones fold up into almost nothing in your pocket or bag, and best of all, don't require a charge to work.
You can plug them into your phone or laptop, intercept calls and talk on Skype with ease and if you were to lose or break them, they are much easier to replace.
While some might favor headphones without wires, in most situations we are near our phones anyway, so apart from driving and high-impact sport, being connected isn't that big of an issue. After all, if a call is dragging on and your arms are getting tired, you can simply connect the Panasonic's to your phone, put your phone in your pocket and continue with no problem, or even a charge to worry about.