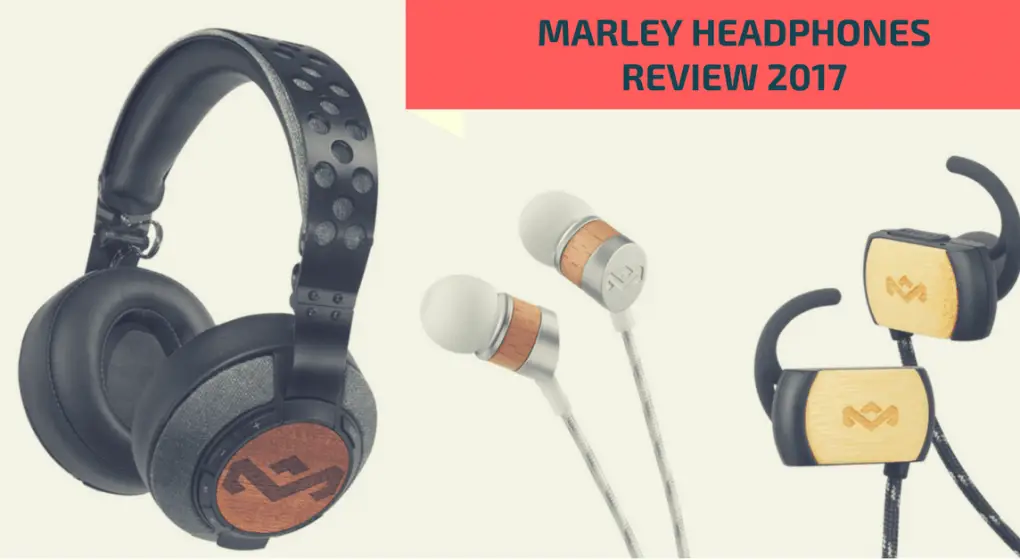 If you are looking for quality headphones, but don't want to pay hundreds of dollars, it is time to take a look at the offerings by The House of Marley. This company makes a variety of headphones as well as speakers and accessories. They believe in the principles of superior quality, earth-friendliness and a commitment to global charitable causes.

Features
The House of Marley creates sustainable audio products from earth-friendly materials including cotton, canvas, recycled plastics, recyclable metals, bamboo, and Forest Stewardship Council certified woods. They are also committed to supporting 1Love, a Marley family charity that is dedicated to supporting youth, the planet, and peace.

House of Marley products seek to combine comfort and high-quality acoustics in eye-catching products. Marley's "Signature Sound" strives to produce smooth, powerful bass, precise mids, and an energetic high-end. Because they employ custom engineering and tuning techniques, you will hear your music the way the artist heard it as it was being recorded.

Because The House of Marley does not have expensive advertising campaigns or high profile sponsors to pay, they are able to offer quality products at a relatively low cost compared to some of their pricier competitors. With a wide range of in ear as well as over the ear headphones, there is something available in every price range. In-ear headphones start at $19.99, with the Mystic and Little Bird models, and go up to $99.99 for the Voyage BT. Over the ear headphones start at $39.99 for the Roar, and go up to $169.99 for the Liberate XLBT.

Each model has a name reflective of Bob Marley and the reggae movement. Both the in-ear and over the ear headphones are designed for an ergonomic and comfortable fit and come in a wide variety of colors and patterns. Most products are made with 70% bio-plastic housings. Almost all of the earbuds are made with regrind silicone rubber. No matter which style you choose, you get a compact yet flexible set of headphones that packs a powerful listening experience.

The House of Marley products can be purchased directly from their website or on Amazon. If purchased from House of Marley they will be shipped using FedEx Ground shipping, which generally arrives in 2-5 business days. For an added cost, there is an option for expedited shipping, which generally arrives in 1-2 business days.

No matter where you purchase your Marley headphones, the company stands by their products. Each item is created with the highest quality components and should last you for many years. If you are unhappy with your product, please refer to the accompanying warranty for refund information.
Pros
In general, a majority of the reviews for Marley products are overwhelmingly positive. Most products rated on Amazon have over four stars. The feature that received the most compliments in almost every review is the look of these headphones. Users like the fact that Marley headphones come in a wide variety of fun colors and patterns. The earbuds come in colors like "Mystic Rasta" and "Nesta Rose Gold". The over the ear headphones are available in "Roar Navy" and "Positive Vibration Copper". Even the models that aren't offered in different colors come with stylish fabric and wood accents.

Unlike other, lower cost headphones, the Marley lineup is credited with being durable. Not only do they have a sturdy build, but they are also lightweight. Users commented that most of the models are comfortable even after many hours of continuous use.

Reviewers appreciated the high-quality sound of the Marley headphones. Unlike other discount brands, these do not break down with distortion at higher volume levels. Even with the volume on high, these headphones deliver perfectly crisp and accurate audio. The high notes are as sharp and clear as they would be with more expensive headphones or speakers. One reviewer reported that the bass was "stunning" and full of depth and resonance while the left and right separation is highly accurate. The Marley's tend to have better sound separation and sound stage than other headphones in this price range.

Additionally, users reported that these headphones were compatible with a variety of phones. They were simple to connect and use. Some models do come with a remote and microphone. The mic is reported to be of great quality, producing a realistic sound without background noise and the remote allows you easily move through tracks with its one button control.
Cons
Although most of the reviews for Marley products are highly favorable, there was some criticism from people who compared these headphones to their high-end counterparts.

One of the most common complaints is that the over the ear products are uncomfortable. The ear cups and headband contain insufficient padding. Users reported that the ear cups should be made of a higher density foam. Also, the metal in the headband tends to dig into one's head. It may be possible to add more foam or padding on your own if you find your headset uncomfortable.

Other common complaints included issues with the cord which is prone to getting tangled. The cord is a stylish, braided cable with small decorative wood accents on the ends. Although it looks nice, it catches against clothing and other objects, creating a very loud feedback effect in the headset. A few users have noted that it is possible to replace the cord to eliminate this issue, but recommend that if this is a problem, you should purchase a higher quality brand of headphones.

As far as sound quality goes, reviewers report that it is on par with other headphones in the same price range, but it does not compare to higher end products due to the noticeable distortion. The mids are recessed and unremarkable. The highs are sharp and harsh. The bass can have a heavy or muddy sound quality. The stock sound does not produce crisp highs – they were described as "accurate but out of reach". One solution was to remove the small piece of foam glued to the plastic in front of the drivers. This should open up the sound without any sibilance or fatigue.

Another complaint is that there is no differentiation between the left and right ear pieces. This seems to create a very unbalanced sound with an extreme U-curve and flat tone. You may find that you need to adjust the equalizer for a more balanced sound.

Additional complaints include issues with the cans rattling, making the over the ear headphones feel cheap. Others were left unimpressed with the burlap storage case that offered little protection.

Verdict
The reviewers agree that you get what you pay for with The House of Marley lineup of headphones. If you are looking for value priced headphones that look good and offer a variety of colorful options, you're sure to find a style that suits you. With very few complaints regarding the earbuds, they have many affordable options. If you want superior music quality in an over the ear headset, you might want to look elsewhere. While the quality was acceptable for the price, true music aficionados were left unimpressed.